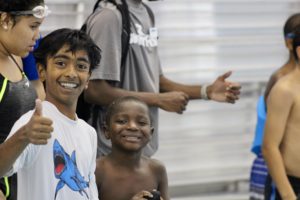 Author: Benjamin Harrell
It's been a great summer at SwimRVA! With the last week of summer camps wrapped up, now is a great time to shout out all the campers, camp leaders, coaches, and instructors that made Summer 2019 super special.
There were camps going on nearly every week during the summer break, each one having its own unique theme or focus. An average day in the Summer Camp is split between swim lesson sessions, water games, and land activities. All work and no play makes for a dull camper, and exciting water games like log rolling, water balloon fights, and obstacle courses maintain a balance between learning and playing. "We do free swim every day, and we put on an Olympics at the end of the week!"
The swim lessons follow the same successful station-based format as SwimRVA Swim School. Coach Kris helped lead every camp session and has seen his share of success stories in the water. "The camps have been phenomenal. Every session was booked, some even overbooked, so we needed to find more instructors."
That wasn't a bad problem, said Kris, and it wasn't hard to find coaches. "It's been amazing seeing the entire community come out to help these kids," said Kris. "We've had help from college students, retirees, even members of the Rapids has come out to help teach them." The success in the water has been just as phenomenal. When asked about the campers' progress, it was revealed that every student had progressed their skill levels!
More specialized sessions like water polo camp, strokes & turns camp, and mermaid camp to name a few. Summer Camp got to interact with the other camps during free swim, which led to some intense log rolling competitions!
Thank you to everyone that was part of the Summer Camp experience! Many children's lives were changed for the better thanks to you helping them learn to love aquatics! We can't wait to see you in the fall.
---
Follow us for the latest! #SwimForIt!
---
The Mission of SwimRVA is to elevate swimming in the Richmond region making water safety and aquatic fitness more accessible to all. We promise to serve as a catalyst for regional aquatics and community-wide focus on water safety, health and fitness, sports tourism, and competitive aquatics. Donate today to help support our mission