SwimRVA
Collegiate School Aquatics Center
5050 Ridgedale Parkway, Richmond, VA 23234
(804) 271-8271
Get directions
Take a virtual tour
Hours Of Operation
Monday: 6:00a-8:30p
Tuesday: 6:00a-8:30p
Wednesday: 6:00a-8:30p
Thursday: 6:00a-8:30p
Friday: 6:00a-6:30p
Saturday: 10:00a-5:00p (non-meet weekend)
Sunday: 12:00p-5:00p (non-meet weekends)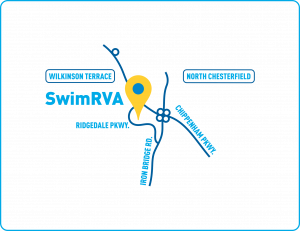 Welcome to the heart of all things aquatic in the Richmond region.
Our 54,000 square foot headquarters facility in Chesterfield—the Collegiate School Aquatics Center—features the 2008 US Olympic Trials pool as its centerpiece, along with a secondary instructional pool, a state-of-the-art therapy pool for seniors, well-equipped fitness rooms, and SwimRVA's home offices. The facility is the first of its kind in Central Virginia and has become the nexus of proactive, inclusive aquatic efforts across the Richmond area.
Competition Pool
A 50-meter, 8-lane competition pool with movable bulkheads. This pool was used in the 2008 Olympic trials in Omaha, Nebraska. Twenty one American records and nine World records have been set in it. At 7′7″ deep and 79°F, this spectacular competition pool is the only 50-meter pool in Central Virginia and one of the finest along the East Coast.
Instructional/Group Exercise Pool
A 25-yard, 6-lane multi-purpose pool, it stays at a comfortable 84 degrees and is home to swim lessons, our Learn-to-Swim program, Aquacise, Aqua Zumba, Special Olympics practices, and Discover Scuba courses.
Therapy Pool
The state-of-the-art HydroWorx® pool, which provides warm water therapy, stays at a relaxing 91 degrees. It is fully equipped with a handicap accessible lift, stabilizing sideboards, and two under water treadmills with a fully incorporated video system for development purposes. This pool is great for rehabilitation, arthritic joints, aching bones and more.
Mezzanine/Spectator Seating
Our competition pool features seating for 700 spectators right above the action. Comfortable bleachers, a great view, and five 36" high definition TVs make this area the perfect place to spend some time.
Community Room
A huge, multi-purpose community room used primarily for land fitness and active older adult classes including Zumba, line dancing, core training, yoga, Cardio Burn,and Zumba Lite. It can also be transformed into the perfect room for meetings or birthday parties and is used during swim meets as a common room, vendor area, or cafeteria.
Locker Rooms
Our clean, modern, well-equipped locker rooms offer everything you need. We have lockers, showers, bathrooms, and sinks and mirrors, of course, but also helpful creature comforts like bathing suit dryers.