Author: Benjamin Harrell
Children with an Autism Spectrum Disorder (ASD) have a unique relationship with aquatics. Water has a surprisingly strong pull on these kids; they will often leave their immediate area at the sight of a body of water. They love the water for multiple reasons, a big one being it stimulates many senses at once. AngelSense, an organization focused on empowering the special needs community, summarized the perspective wonderfully: "Think about what you experience in pool water or the ocean. The surface of the water sparkles in a pool, and ocean waves create foam against a beach. The smell of chlorine or saltwater is obvious, and visuals are distorted as you look into the water. Now put yourself in your child's shoes and consider how happy they are with their favorite weighted blanket or textile toy. The water offers everything they gain from those stimuli and more."
For families of children with autism, this fascination with the water can also provoke fear whenever there's a pool, creek, or beach around. Drowning is the number one reason of death for children with ASD. With 1 in every 54 children diagnosed with an Autism Spectrum Disorder (ASD), each with their own unique personalities, they all have a shared need to be water safe. This was the problem that first brought Wayne and his son, Nicky, to the SwimRVA Autism Swims program. But what kept them coming was something more.
---
Survival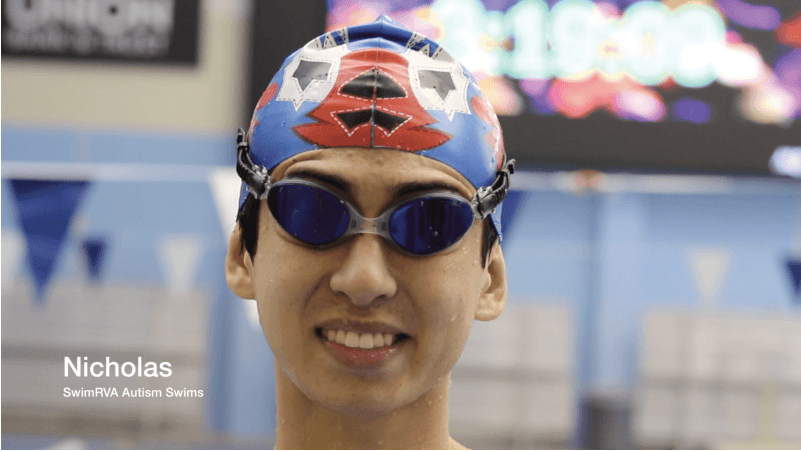 As a parent of an autistic child, one of Wayne's biggest fears is that Nicky will be in a position where he can't protect himself. "If he's drawn to a body of water but doesn't know the conditions of it, that he'll be able to survive for as long as it takes to get help is what I want." Wayne's concern about safety stems from an unforgettable moment between Nicky and the water. "At an early age, we began getting him used to the water and introduced him to swimming lessons," Wayne says. After seeing how strongly his son was attracted to water, his urge to provide proper training for him intensified. "Nicky has always been drawn to the water. We found that out quite dramatically on one occasion, and we knew that we always had to prepare him to be able to protect himself in the water."
While a magical sight with the right precautions, without proper training this attraction can turn dangerous at the blink of an eye. From 2009 to 2011, accidental drowning accounted for 91% of total deaths reported in children with an Autism Spectrum Disorder (ASD), and 32% of all parents reported a "close call" to drowning, so Wayne's worries for Nicky's safety were warranted. Nicky had lessons at a pool before coming to SwimRVA. But he had difficulty controlling himself and following instructions. "It's been a long journey," Wayne says. "The coach was very patient with him, but progress was very slow in the first few years." Making the transition to the Autism Swims program at SwimRVA also took some adjustment. But once Nicky got comfortable here, his progress soared. Getting used to a new facility took some time. "The new pool size, temperature, and sounds were all things that Nicky needed to get used to. It was a much bigger environment than he was used to."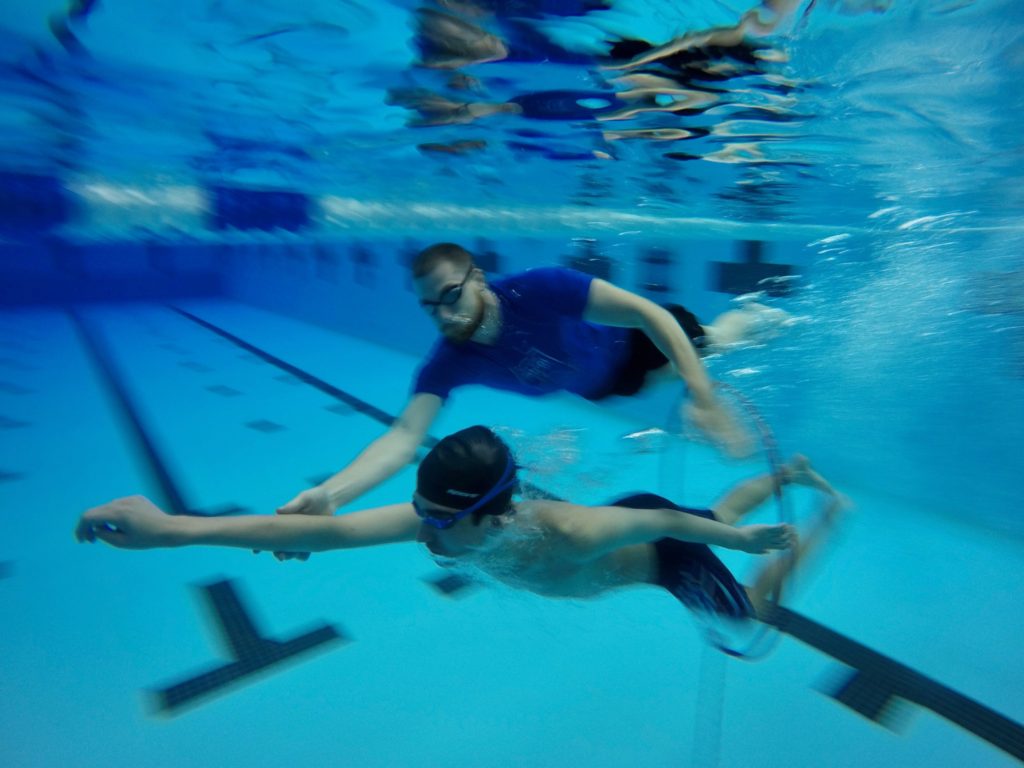 Each child with an ASD has their own unique challenges and advantages, and Nicky and Coach Jacob worked to find their own strategy. One consistently effective teaching tool was "the hoop", a hula hoop weighted down underwater. Coach Jacob came up with the idea when Nicky needed to work on his diving. Nicky started diving out further to glide through the hoop as a game and began to improve his technique, and eventually started looking forward to the hoop. Using a mixture of verbal and nonverbal communication helped Nicky accomplish skill after skill. "It's starting to feel like [swimming] is Nicky's sport," Wayne explained. "I have cycling and his brother has hockey. It's getting close to being his sport."
At first, the reason for joining Autism Swims was only to help Nicky stay out of danger. But Wayne says that the family is now willing to let him take his swimming as far as he wants to go with it. "It's evolved from Nicky just protecting himself in the water. Now he's actually learning how to do the different swim strokes. He has an excellent coach, and we're just thrilled to have him continue on and become the best swimmer in the family!"
---
Socialization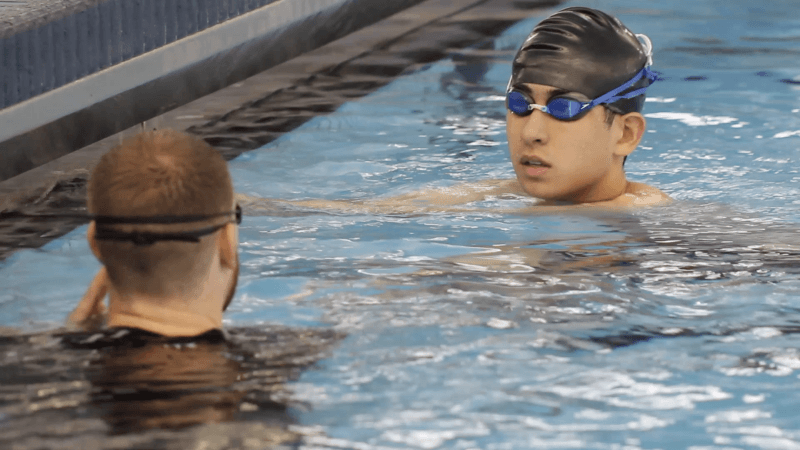 Wayne credits the SwimRVA community for much of Nicky's success in the water, and for his success out of the water as well. Slowly but surely, he has begun to show his own personality and to do so with confidence. "When we first came here, we had a key tag to scan in. He really wanted to start [doing it] himself, so I started giving it to him to scan. Eventually, he saw how the front desk assistants would scan it and wanted to work the scanner himself too! He thought it was a cool thing to do, and the staff was very accommodating."
Being part of the SwimRVA community means a lot to Nicky and his family. He is interacting with new people more and more, and he is more easily adapting to new situations. Whether it's just a hello from another member or a high five from Coach Jacob, every little interaction counts. It can be hard for Nicky to make new friends with kids at times. "Children are understandably confused about some of Nicky's outbursts," explains Wayne. "He may shout or move out of excitement, but could frighten a young one who doesn't understand what Autism is."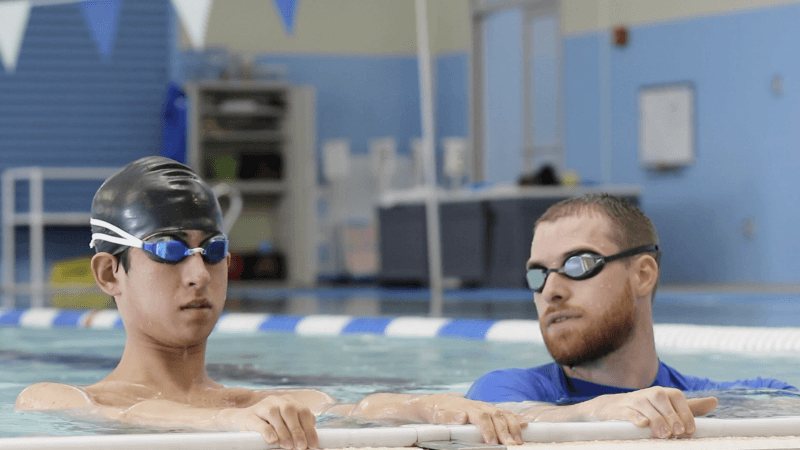 That doesn't stop Nicky from bonding with the community in his own way. "It's a nice thing for Nicky socially," Wayne explains. "It's not going to be a conversation, but even a wave goes a long way." Nicky has also taken interest in the growing SwimRVA Rapids swim team! After his lessons are over, he can often be found sitting on the bulkhead, watching Coach Jacob during a SwimRVA Rapids practice. "Chronologically, he's 18 years old," says Wayne, "but views himself socially in the five-to-eight-year age group. In many areas, he shows his intelligence is neurotypical and age-appropriate, but deep down, he's a kid at heart."
Nicky came to SwimRVA Swim School looking for a suitable environment to learn how to protect himself in the water. Through his own hard work, family support, and a great teacher, Nicky was able to turn aquatics into something to look forward to instead of fear. When you see Nicky swimming at SwimRVA, his love for the water will be instantly apparent. He never complains about drills, and he always leaves the practice with a smile on his face. Nicky went from swimming for survival to finding his sport of choice out on the water! Thank you, Nicky, for sharing your passion for the water with SwimRVA.
---
Follow us for the latest! #SwimForIt!
---
The Mission of SwimRVA is to elevate swimming in the Richmond region making water safety and aquatic fitness more accessible to all. We promise to serve as a catalyst for regional aquatics and community-wide focus on water safety, health and fitness, sports tourism, and competitive aquatics. Donate today to help support our mission