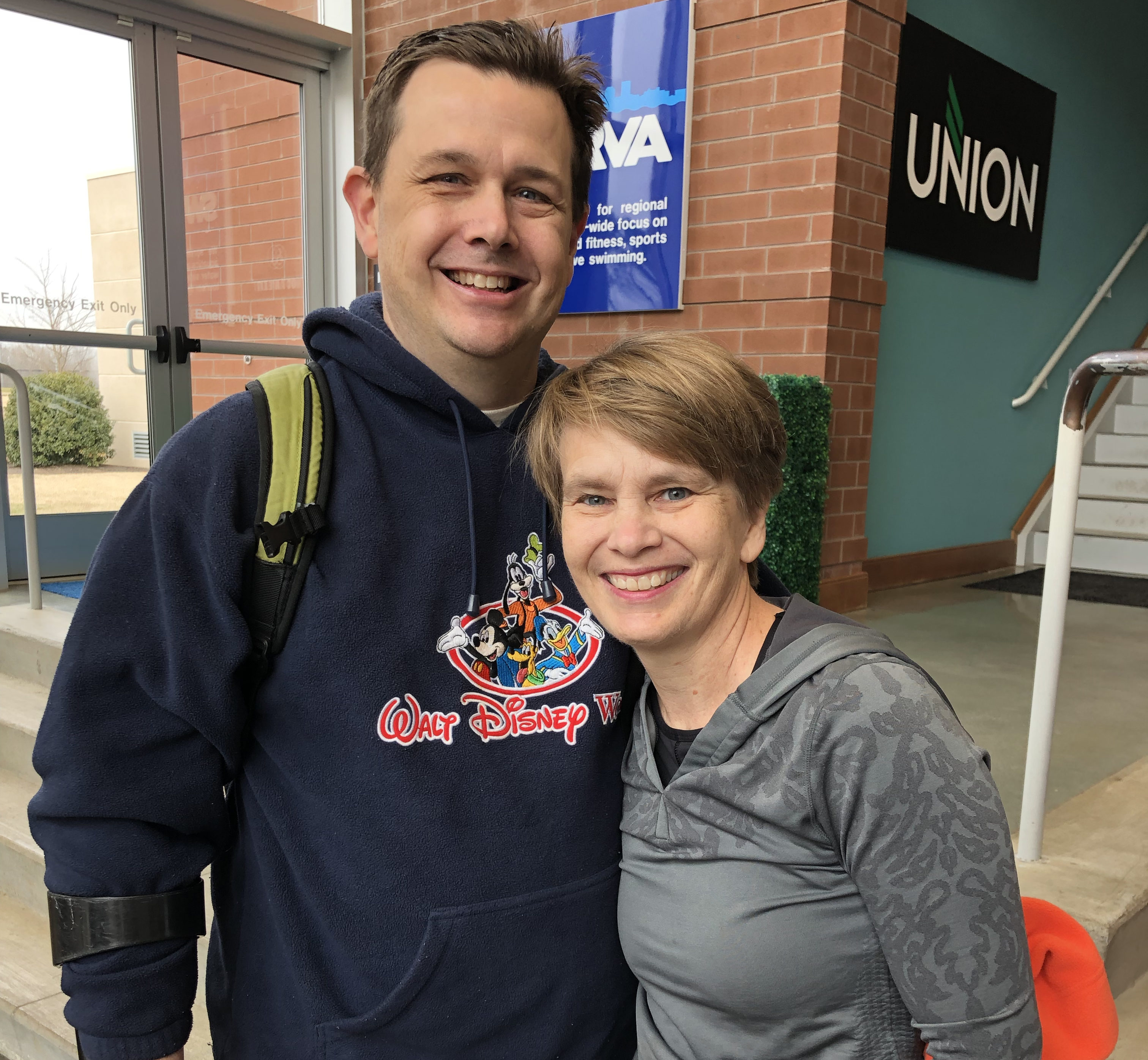 Thank you to Lauren and Jay Swedenborg for sharing your motivational story with SwimRVA!
Building Support Through Aquatics
Lauren and Jay both started coming to SwimRVA after finding a Groupon deal online. Jay originally started his journey in the therapy pool while Lauren would attend one of the many Wellness land classes.
"He attempted land classes with me," said Lauren, "but me being an occupational therapist, I knew it really wasn't the best option for him."
Jay has Multiple Sclerosis (MS). MS involves an immune-mediated process in which an abnormal response of the body's immune system is directed against the central nervous system.
Jay explained that while he used modified workouts to participate, he wasn't seeing the results that he wanted. Thanks to a recommendation from a fellow Wellness member, Jay and Lauren attended a morning aquacise class at SwimRVA and never looked back.
"I decided to forego my dread of cold water (for me any water temp below 90 degrees is chilly), & take water aerobics classes with him. It has been fabulous!"
The couple now takes an aquatic class together almost every morning! "It's harder to skip a class when you know the other person is up getting ready (Lauren)." Jay noted that, while aquatic exercise isn't the cure, he's seen great improvements in his health. "My balance has really improved, and I've even lost weight!"
---
Learn other ways aquatic exercise can help heal the body
---
More Than a Class, More of a Community
When reflecting on what made SwimRVA unique, the couple identified the welcoming atmosphere in every SwimRVA Wellness class.
"The first day of class everyone came up and introduced themselves," said Jay. "At the end of the class everyone was asking, 'We'll see you tomorrow, right?'"
The SwimRVA Wellness mission is to prevent chronic disease and disability by promoting senior fitness within our active Richmond community.  and understanding the importance of all aspects of health and wellness: physical, emotional, social, and intellectual.
"I guess you could say I started off swimming for my husband," said Lauren, "but now I swim for him, my health, & all the joy we get from all the fabulous people we get to interact with each time we jump in the pool at SwimRVA!"
---
Follow us for the latest! #SwimForIt!
---
The Mission of SwimRVA is to elevate swimming in the Richmond region making water safety and aquatic fitness more accessible to all. We promise to serve as a catalyst for regional aquatics and community-wide focus on water safety, health and fitness, sports tourism, and competitive aquatics. Donate today to help support our mission