Author: Benjamin Harrell
The SwimRVA Rapids coaches are here to provide training and leadership in and out of the water! Whether you're a returning swimmer or you're researching the team before joining, get to know the coaches behind the blocks a little better.
---
Jonathan Kaplan
Head Coach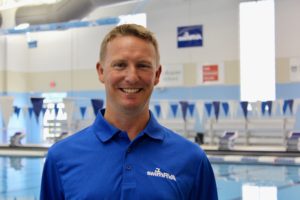 Coach Jonathan is the Head Coach of the SwimRVA Rapids! Jonathan and the Rapids have just wrapped up their first ever season in program history and it was a raving success.Jonathan has been a dedicated advocate for aquatics in the Greater Richmond area; he was a big help in the organization of the first-ever Henrico County high school swimming program. While Coach Jonathan works mainly with the Rapids in Classes 3 – 5 (Age Group – Seniors), he looks forward to helping every swimmer in the program achieve their goals. After coaching at the senior-level for so long, Coach Jonathan says he's been really enjoying working with kids during fundamental years. "We're going to have swimmers with a wide range of aspirations, and I'm really looking forward to helping all of them reach their goals."
---
Chris Bushelman
Senior Assistant Coach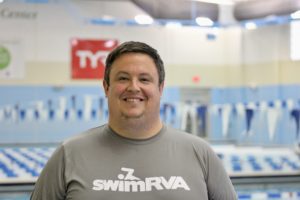 Chris joined the SwimRVA Rapids coaching staff this past year as the first full-time Senior Assistant Coach, and already enjoyed a storied coaching career throughout his 13 years in the profession. He and Coach Jonathan began building their coaching relationship during their time together with the YOTA Swim Team as they helped the largest YMCA team in the country reach great heights. "I look forward to using my experience and insight to help drive the inspirational mission of SwimRVA, helping the Rapids become Richmond's hometown team."
---
Jessica Laird
Head Developmental Coach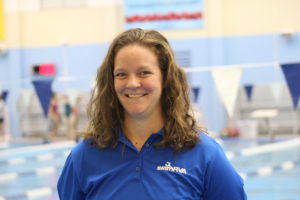 After becoming the Head Developmental Coach in February, Coach Jessica immediately brought awesome ideas to the Rapids that are already improving the quality of instruction and experience for the swimmers! Jessica was chosen as an Eastern Zones coach for Virginia Swimming in 2016 and 2017. She is currently an ASCA certified Level 2 coach and working towards her Level 3 certification
Prior to joining SwimRVA, Jessica spent three successful years as an Associate Coach at Poseidon while at Poseidon, she worked hard to build relationships with every athlete. Coach Jessica believes that having trust with every athlete is very important; as well as encouraging swimmers to help them achieve their true potential.
---
Steve Medei
Assistant Swimming Coach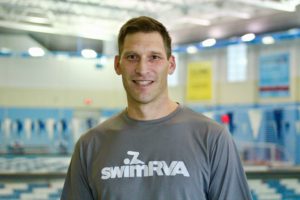 Since joining the Rapids as an Assistant Swimming Coach in September of 2018, Coach Steve has turned himself into an absolute rockstar. Coach Steve has loved being in the water for as long as he can remember. "My older sister was a swimmer, so my brother and I tagged along to the pool," said Coach Steve. He would follow in his sister's footsteps, swimming competitively up to his graduation from Penn State. Steve took time away from swimming to work in the corporate world but always kept his passion for the sport. "After a while, I realized that coaching was something I wanted to get back in to, and the opportunity to join the Rapids was perfect." Catch Coach Steve working primarily with the Class 1 (Novice), Class 4 (Junior) and Class 5 (Senior) Rapids groups!
---
Jacob Henry
Assistant Swimming Coach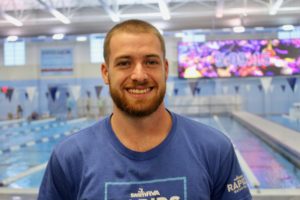 Jacob has been with SwimRVA for almost three years and serves as an Assistant Coach Swimming Coach for the Rapids Swim Team. "I want the swimmers to enjoy aquatic sports and grow overall athletes and good overall people." When he isn't coaching the swim team, Jacob also works as the Head Coach for the Rapids Water Polo team and Coaching Specialist for the SwimRVA Learn-To-Swim, SwimRVA Swim School and SwimRVA Autism Swims programs. He has sent two water polo athletes to the Junior Olympics, and coaches the #1 player in the State!
---
Sarah C. Browning
Assistant Swimming Coach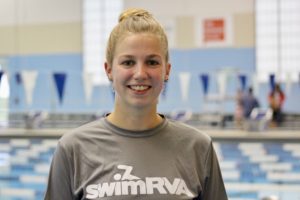 Since joining the Rapids family as an Assistant Swimming Coach in September of 2018, Coach Sarah has been an integral part of the coaching staff from head to toe. "I want the kids to get the family atmosphere; this being a safe space for them, to come here to get away from everything." Sarah's leadership skills have also developed over the years. She taught swim lessons and coached summer league teams throughout her high school career, and started coaching yearlong with Coach Jonathan at the Dolphin Club.
---
Ed Boyle
Assistant Swimming Coach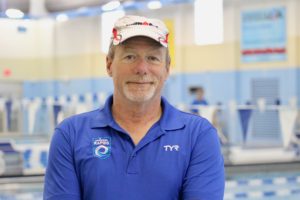 Coach Ed joined the SwimRVA Rapids as an Assistant Swimming Coach and enjoys working with beginner swimmers, especially with swimmers that are anxious about being in the water. In addition to being one of our awesome SwimRVA Rapids coaches, he also works with the Richmond Hammerheads, the Tuckahoe YMCA Master's, and most recently the Goochland High School swim team.
---
Lauren Hines
Assistant Swimming Coach
Lauren Hines comes to the SwimRVA Rapids as an Assistant Swimming Coach. Lauren held many titles in swimming prior to coaching, including taking home the bronze medal in the 50 free( 23.42) and silver in the 100 back (53.69) and 200 back (1:59.5) and led off the first place 200 medley relay and 400 medley relays at the 2012-2013 Atlantic 10 Championships. She also qualified for the Olympic Trials in Omaha, Neb. in June in the 100 and 200 back.
---
Follow us for the latest! #SwimForIt!
---
The Mission of SwimRVA is to elevate swimming in the Richmond region making water safety and aquatic fitness more accessible to all. We promise to serve as a catalyst for regional aquatics and community-wide focus on water safety, health and fitness, sports tourism, and competitive aquatics. Donate today to help support our mission