Author: Renee Samaha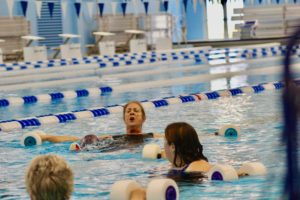 SwimRVA Wellness offers a multi-faceted selection of land and aquatic fitness programs designed to build your physical, emotional, social, and intellectual health in a supportive, goal-oriented environment. Our work would not be possible without the dedicated work shown by our Wellness Coaches. Get to know some of the coaches below!
---

Coach Jane
Jane is very passionate about aquatics and water aerobics. She does a great job helping those who are new to water aerobics and making her workouts fun!
Catch Coach Jane around SwimRVA teaching during the following classes:
Arthritis Foundation & More (AF&More)
H2O Fit
Aqua Fun
---

Coach Judy
Judy has a kind and caring heart for others. She meets individuals where they are and helps them feel welcomed into the community!
Judy helps lead a variety of classes, including AF&More every Monday, Wednesday, and Friday!
---

Coach Kimi
Kimi has a wide range of talent in the fitness field from many years of experience. She is always coming up with new exercises to keep her classes exciting!
Coach Kimi's deep well of fitness knowledge allows her to teach a wide range of classes, including:
---

Coach Lawrence
Lawrence is extremely friendly and knows how to keep his class participants smiling while working hard. He truly enjoys teaching classes and interacting with individuals each day!
Coach Lawrence's wellness-filled schedule includes:
Aquacise
Funk Aerobics
Silver Splash
Bootcamp
Aqua Bootcamp
Finning
Power Pump
Aqua 30/30
Pilates
Aqua Body Blast
---

Coach Rose
Rose has great energy and enthusiasm that is contagious to all of her class participants. She always has the best music to keep you moving!
Rose covers both land and water classes, including:
Classic Chair
Zumba Gold
Cardio
Zero Impact
---

Coach Tara
Tara finds joy in helping others develop a passion for Yoga and fitness. She always takes extra time to get to know her class participants and help them!
The main classes covered by Tara include:
Resistance Bands
Core Blast
Yoga
Thank you Wellness Coaches for all that you do in the gym, in the water, and out in the community to spread health and wellness!
Follow us for the latest! #SwimForIt!
---
The Mission of SwimRVA is to elevate swimming in the Richmond region making water safety and aquatic fitness more accessible to all. We promise to serve as a catalyst for regional aquatics and community-wide focus on water safety, health and fitness, sports tourism, and competitive aquatics. Donate today to help support our mission