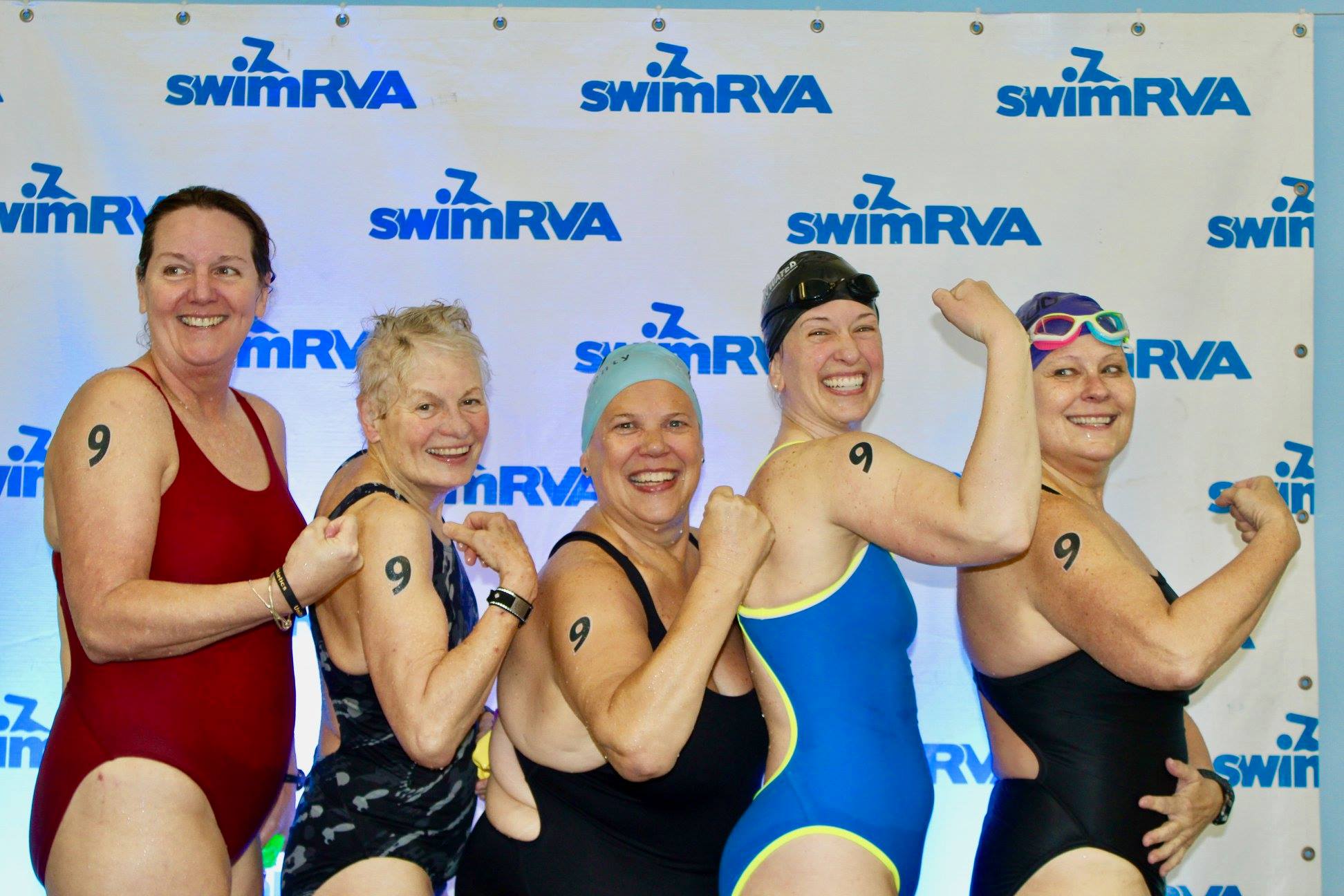 Author: Benjamin Harrell
Long-distance swims can be an intimidating atmosphere for new racers. Swimming in unfamiliar open water swims will test your mental toughness and physical endurance. For a beginning competitor, consider nontraditional races that can accommodate your level of skill. The SwimRVA 10k Challenge is a great next step for your swimming journey!
The SwimRVA 10k Challenge tests you and your team to accomplish a larger goal. Team up with your friends, family, or neighbors to see if you can complete 25 loops of SwimRVA's unique 400 meter "open water" style course. In this challenge, you will be asked to complete up to 25 laps of the uniquely designed open-water formatted 400-meter pool design for a total of 10,000 meters (10K). Enjoy crystal clear water swims with the feel of open-water swimming. Up to five swimmers are allowed to be on one team. After gathering your crew, signing up for the SwimRVA 10k Challenge is as easy as ever!
Events like the SwimRVA 10k Challenge are fun but challenging. Training programs like the SwimRVA Hammerheads have expert resources and coaches that train for your best results. Check out some helpful information featuring Coach Alice and Coach Ed of the SwimRVA Hammerheads on how to prepare for the SwimRVA 10k Challenge on your own!
---

Slow and Steady
Don't expect to set a personal record on your first practice. Set smaller goals and work your way up. Don't try to do too much in a short period. Your body won't have time to strengthen without rest. Overexertion can lead to burn-out, staleness, injury, and illness. Consider using the "SMART" Method to finetune your swimming goals! "If a swimmer is starting from scratch, they should be able to swim for about 20 minutes, with rest built into the 20 minutes." – Coach Ed
---

Put In the Work
Swimming multiple laps of 400 meters will be a challenge. That's what races are for! Coach Alice works with multiple groups to prepare them for events like these. "Be certain that you can swim 400 meters without stopping . . . Comfort with a continuous 400 gives you a stable base to operate from." – Coach Alice
---

Get Used to the Surroundings
Practice at the race location if possible! Even though the SwimRVA 10k Challenge is indoors, pool conditions also vary by location. You'll have a more comfortable race if you're accustomed to the conditions. "I'd strongly advocate exposure to race-day conditions before the actual swim event," explained Coach Ed. "Sound judgment dictates that the swimmer must expose themselves to projected race day conditions before the race." SwimRVA transforms its 83-degree Olympic-sized pool into a 400-meter relay-style obstacle course! The SwimRVA Hammerheads have practice sessions that mimic the course for the day-of. Check to see when the next indoor swimming practices are.
---
Practice Refuelling
Know what, when, and how you'll eat on race day. The SwimRVA 10k Challenge is formatted to give each swimmer a good break between laps. Maintaining your energy reserves is crucial to keeping up your endurance during your race. "Most athletes will benefit from a few sips of electrolyte and carbohydrate replacement. This can range from fancy beverages to some dilute Gatorade." – Coach Alice. As mentioned before, the event is not nonstop, but the stress will build upon your body over time! Coach Ed recommends you incorporate nutrition into your workouts. "You've probably heard of runners hitting 'The Wall' – the body becomes depleted of calories and struggle to find the energy to continue running. The same can be said of distance swimmers.
---
The SwimRVA 10k Challenge offers a team-based alternative to the standard race for swimmers. Make sure you're training properly for your next challenge, especially if it's your first time. When possible, work out with expert coaches like the SwimRVA Hammerheads. You'll be tackling long-distance swims in no time! Wherever you swim, take care of your mind and body and #SwimForIt!
---
Follow us for the latest! #SwimForIt!
---
The Mission of SwimRVA is to elevate swimming in the Richmond region making water safety and aquatic fitness more accessible to all. We promise to catalyze regional aquatics and community-wide focus on water safety, health and fitness, sports tourism, and competitive aquatics. Donate today to help support our mission