Author: Benjamin Harrell
Hey, all I'm Benjamin, Communications Coordinator for SwimRVA. I've been capturing stories and moments in the SwimRVA community for about three years via newsletters, blogs, social media and more! The SwimRVA Communications team challenged me to add an aquatics class to my exercise routine. I have been looking for an alternative to the treadmill for my cardio, so Aqua Running seemed like an easy transition. I've tried running in the water before, but my form didn't feel right. So I put down the camera, put on a floatation belt, and headed to the Aqua Running class.
---

I was immediately embraced as a member of the community. I often shy away from group-class situations from fear of embarrassment. The team members all introduced themselves before I had a chance. During the class, I was included in-jokes and conversations.
Taking the class with an experienced coach was very beneficial! My running form wasn't where it needed to be at the beginning of the class. By the end, my form never felt better. Coach Rose guided me along the entire time. She had quick pointers that were easy to follow. For instance, I was reaching out with my legs like I would if I were using a long stride on the track. Instead Coach Rose demonstrated I needed more of a running in place motion.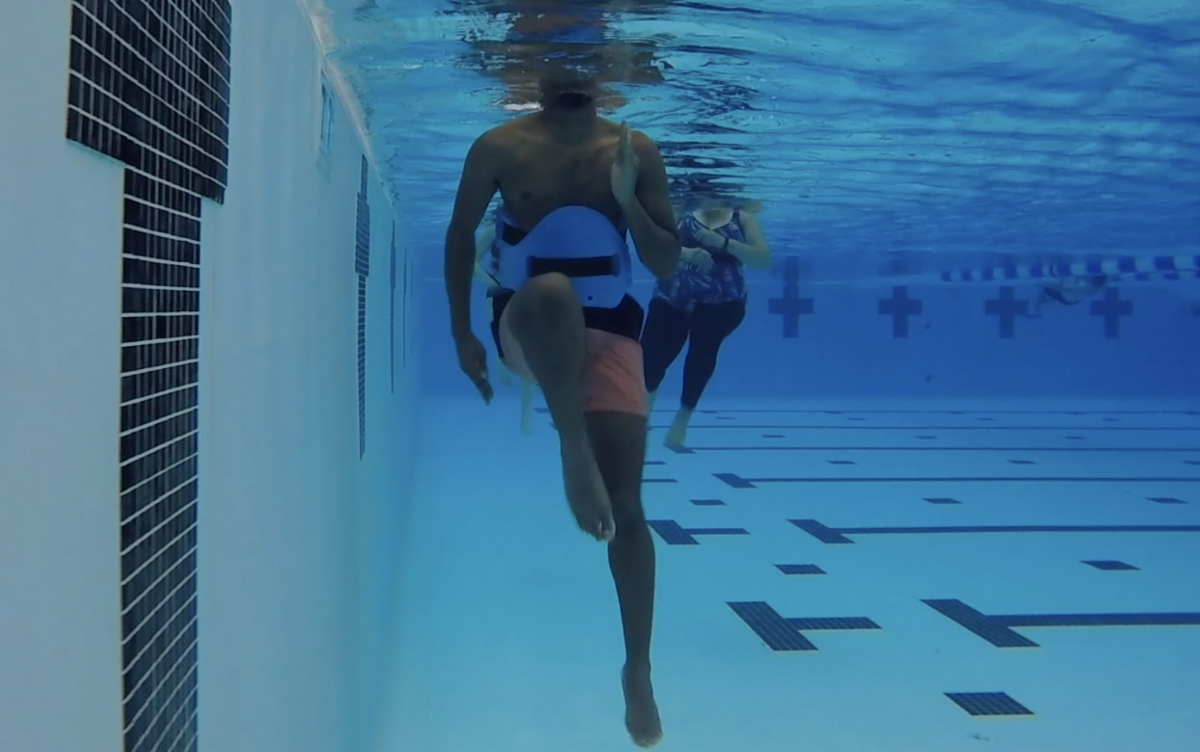 The workout didn't come from the distance traveled. Instead, it was more high-interval training. My favorite session was 4.5 minutes broken up into 15 sec run/15 sec rest, 30 sec run/30 sec rest, 45 sec run/ 45 sec rest, 60 sec run/ 60 sec rest at 85% intensity. Do that three times and you'll appreciate hearing the coach shout "EASY"!
Intensity levels are based on your own level of movement. My 85% was different from the other team members. I haven't worked out in a while and wasn't used to the resistance from the water. Running in the water took a lot of stress off of my body without diminishing results. The water resistance made the "run" a workout for the entire body.
Getting into a rhythm allowed me to clear my mind. Instead of thinking about how I was struggling in the water, I began to think about what went right. Soon I was thinking about what went well that day and that week. It allowed me to have a fresh perspective on my time and effort. I can't wait to get back in the pool with the Aqua Running crew!
---
Follow us for the latest! #SwimForIt!
---
The Mission of SwimRVA is to elevate swimming in the Richmond region making water safety and aquatic fitness more accessible to all. We promise to serve as a catalyst for regional aquatics and community-wide focus on water safety, health and fitness, sports tourism, and competitive aquatics. Donate today to help support our mission